Connaisseur Audio dealer van Furutech
Furutech behoort tot een van de grootste fabrikanten van high-end audio-accessoires. Ze leveren stekkerblokken, bekabeling, connectoren en sinds kort NCF boosters, en AC filters. Innovatie bij Furutech is uniek te noemen. Door de jaren heen introduceerden ze nieuwe technieken die zich direct bewezen, denk hierbij aan het Alpha-process, NCF, en de toepassing van carbon.
Furutech presenteert zich als een nuchter bedrijf, waarbij de werking en klankmatige eigenschappen van hun producten kunnen worden gemeten, uitgelegd en als belangrijkste duidelijk kunnen worden gehoord.
---
Review Absolare Signature Integrated in Soundstage! Australia
Ook Soundstage (april 2018) onder de indruk van Absolare Integrated.
The Absolare Signature Integrated is an outstanding achievement, surely befitting of a place amongst the world's finest integrated amplifiers. The Signature Integrated possesses musicality, drive, timing, control and finesse in spades; matched only by its unique aesthetic, exceptional build quality and desirability factor. Its minimalist, unassuming visage belies its sophisticated and ultra-high quality design, which somehow manages to extract a near perfect balance between tube and solid-state features.
While it may be considered for some to be expensive, its performance capabilities in so many areas frankly exceed what could be achieved in preamplifier-amplifier separate combinations at far loftier price points, therefore making it an attractive proposition as a statement amplifier for those slightly short of space or for those demanding electronics capable of the very highest standards. An audition of its abilities is absol[are]tely recommended!
… Josh Givorshner
SoundStage! Australia
---
Connaisseur Audio met Absolare bij Very Fine Solutions
Music unites SPRINGTIME (14 – 15 April 2018)
Een muzikale ontdekking in een kunstzinnig kader waar Very Fine Solutions samen met Connaisseur Audio de geïntegreerde versterker van Absolare voorstelt. Kerem Kucukaslan komt naar Antwerpen om uitleg te geven over z'n Absolare ontwerpen. Een prachtige hybride geïntegreerde versterker met een luxueuze afwerking in een magische set met MSB en Tidal.
Kom ontdekken wat mogelijk is in uw woonkamer.
---
Absolare Integrated Amplifier reviewed door Absolute Sound
Robert Harley beluisterde de Absolare Integrated Amplifier in de maart editie 2018 van Absolute Sound.
Living with the Absolare Integrated fosters a very different relationship between listener and hi-fi system. It's an entirely different aesthetic from the feature-laden component with a brightly lit alphanumeric display, sharp-edged metal casework, and sound that values treble detail at the expense of rich musicality. Instead, I found something tremendously compelling about the utter simplicity of the Integrated's operation, the way it looks like a piece of art rather than a product of industrial engineering, and the warm and fatigue-free listening it offers up. The Integrated's sound is not just tube-like, but SET-like in its lush midrange liquidity and voluptuous warmth. But unlike any SET—even Absolare's own powerful and robust Passion 845—the Integrated will drive a wider range of loudspeakers and deliver deeper and more controlled bass.
Some tube-transistor hybrid amplifiers are a mix of compromises and trade-offs, with the designer attempting to minimize each technology's shortcomings while maximizing its strengths. I see the Absolare Integrated not as a product of compromise, but rather of distillation. The company has found a way to bring the magic of its all-tube Passion components to a product that is not only more affordable, but also more flexible because of its ability to drive a wider range of loudspeakers. Give the Integrated a listen; I suspect that many of you will be captured by its many charms, just as I was.
---
München High End Show 2016 groot succes voor het Absolare team
De reviewers van Absolute Sound waren unaniem in hun oordeel.
Rockport Altair II aangestuurd door Absolare electronics behoorde tot de "Five Best-Sounding Rooms" volgens het show rapport van Jonathan Valin: The Altair II produced the most meltingly beautiful piano sound I heard at the show—simply magical reproduction of the piano's action and the pianist's touch.
Ook Julie Mullins was gecharmeerd (BEST OF SHOW award) van deze set: It felt like nothing was standing between you and the music.
Robert Harley beschouwde de set als Best Sound (Cost no Object): The best sounds I heard in Munich were Rockport Altair II speakers driven by Absolare's new Passion integrated amplifier (!) and sourced by a Kronos turntable in the Absolare room, ...
AVShowrooms Gold Show Award Winners for Sound (Atrium): The Absolare room delivered a realistic and beautifully integrated sound that exuded the smoothness and layering of a fine wine.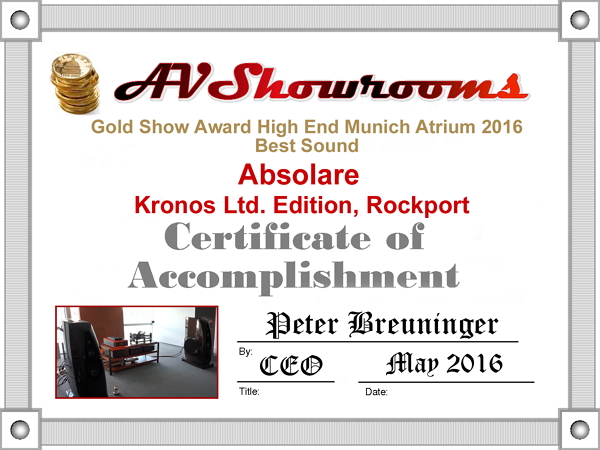 Stereotimes: Once again, Kerem Kucukaslan of Absolare managed to put on an outstanding sounding room. This was the first time I heard the Absolare Passion integrated amplifier and I really liked it. The sound was transparent and authoritative with a natural presentation.
Hifi Pig's verslag van de show: Absolare were showing off their new integrated amp that uses a tube in put stage matched with a solid state output and with the Rockport Technologies Altair loudspeakers and the Kronos Pro turntable it made for an absolutely stunning sound.
Nog een indruk op HiFi-Forum.de van een bezoeker van de beurs: Jede Sekunde ein Genuss, unterstützt von der tollen Musikauswahl.
---
Website Absolare
Absolare heeft een nieuwe website gelanceerd, die straks ook zichtbaar is op het www.absolare.nl domein. Vooralsnog is alle info te vinden onder www.absolare.com.
---
Absolare Passion geintegreerde versterker
De introductie van de nieuwe Absolare Passion geintegreerde versterker is een feit. De technische details zijn terug te vinden op de website van de fabrikant. Binnenkort is deze te beluisteren bij Connaisseur-Audio, en het belooft wat!
---
Echole kabels
Echole komt met een nieuwe lijn kabels uit genaamd: Orius. Deze lijn komt tussen de Signature en Omnia te zitten.
---
Albedo kabels
We hebben ook Albedo bekabeling toegevoegd aan ons leveringsprogramma. Deze kabels worden volledig in eigen huis vervaardigd van grondstof tot een eindproduct!
---
München High End show 2014
We hebben deelgenomen aan de München High End show 2014 met de merken Absolare, Echole, Rockport Technologies en MSB Technologies. Het was een enorm succes, met meerdere onderscheidingen voor "the best sound of the show" en de reacties waren zeer positief! Als je ook zou willen ervaren hoe een juiste synergie kan klinken, maak dan vrijblijvend een afspraak voor een luistersessie.
---